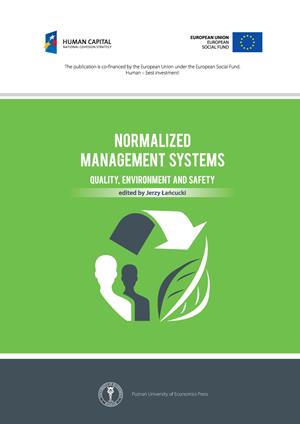 ISBN: 978-83-7417-826-6
e-ISBN:
Wydanie: I
Rok wydania: 2014
Rok premiery: 2014
Strony: 264
Wersja papierowa: oprawa twarda
Wersja elektroniczna: PDF
Format: B5
Licencja: open access
Słowa kluczowe

management systems;sustainable development;standardization;risk management;business continuity management;quality management;excellence models;environmental management systems;food safety management systems;information security management;
Wyświetlenia

ostatni tydzień: 6
ostatnie 3 miesiące: 91

Normalized management systems: quality, environment and safety
Dostępność i zakup
Wersja elektroniczna
(CEEOL)
*Kliknięcie przycisku powoduje przeniesienie na zewnętrzną platformę udostępniania lub sprzedaży.
Sposób cytowania
Łańcucki, J. (red.). (2014). Normalized management systems: quality, environment and safety . Wydawnictwo Uniwersytetu Ekonomicznego w Poznaniu.
The content of all chapters of the present book contributes to the discussion about the shape of the aforementioned strategy in reference to normalized management systems. It should be noted that the authors of the present publication are aware of the correspondence between the standardization of products, processes and management systems. The authors focused on standards associated with management systems, because practice has shown that these standards can be very useful in the process of improving management systems in organizations and, consequently, contribute to its increased competitiveness. The authors, while discussing issues related to this area, have made an attempt to view an organization as a system, i.e. a set of interrelated elements which function as a whole. Special emphasis has been put on the normalized management systems which enjoy great popularity among organizations, especially in reference to the process of improving their operations. Therefore, separate chapters of the present book comprise considerations about various aspects of standards linked with good management practices in relation to: quality, environment, information security, food safety, occupational health and safety as well as social responsibility. Moreover, significant premises, methods and levels of the integration of these systems have been touched upon. Considerations included in the present book, according to its authors, are valuable in their cognitive and application aspects alike. The use of analyses, evaluations and recommendations included in this book can be a very useful tool for improving the implementation process and increasing the effectiveness of the discussed management systems in any production or service organization. The present handbook may also serve as a source of inspiration for conducting independent research for doctoral candidates in the frames of interdisciplinary doctoral studies within the scope of product and service quality. Furthermore, it can be used in order to support the didactic process of these studies /Jerzy Łańcucki/.
PREFACE
Chapter I
THE ROLE OF NORMALIZED MANAGEMENT SYSTEMS IN MANAG- ING AN ORGANIZATION
1. Basic Elements of Sustainable Development
2. Standardization and Normalized Management Systems
Chapter II
RISK MANAGEMENT AND BUSINESS CONTINUITY MANAGEMENT SYSTEMS
1. Risk and Business Continuity Management – Essence and Objectives
2. Systematic Solutions in Risk and Business Continuity Management
3. Practical Aspects of Risk and Business Continuity Management
3.1. Implementation of a Business Continuity Management System
3.2. Risk and Business Continuity Management – Research Results
3.3. Quality Management as a Tool for Risk Management
Chapter III
QUALITY MANAGEMENT
1. Quality of Life
2. Product and Service Quality
3. Quality Management Systems
3.1. ISO 9000. Quality Management Systems. Fundamentals and Vocabulary
3.2. ISO 9001. Quality Management Systems. Requirements
3.3. International Standard. ISO 9004. Managing for the Sustained Success of an Organization – A Quality Management Approach
4. Correspondence between Quality Management Systems and Excellence Models
5. Process Management
5.1. Process Management
5.2. Business Process Management
5.3. Essence of a Process and Process Management
5.4. Identification of Processes and Graphic Modeling
5.5. Business Process Modeling
5.6. Business Process Models
5.7. Standardization in Process Management
6. Industrial Management Systems
6.1. ISO 20000 – IT Services Management System
6.2. Quality Management Systems in Medical Industry
6.3. Quality Assurance for Supplies in Aerospace Industry on the Basis of the AS9000 Standards
6.4. Systematic Quality Management for Telecommunications Industry Suppliers on the Basis of TL 9000
6.5. Normative Basis for Quality Management in Automotive Industry
6.6. NATO Requirements within the Scope of Quality Management
Chapter IV
ENVIRONMENTAL MANAGEMENT SYSTEMS
1. Premises of Implementing Environmental Management System
2. Origins of Environmental Management Systems
3. Environmental Management According to the ISO 14000 Series Standards
4. Environmental Management System in Compliance with the ISO 14001 Standard
5. Eco-Management and Audit Scheme EMAS
6. Stages of Implementing the Environmental Management System in the Organization
7. Similarities and Differences between the ISO 14001 Standard and EMAS 121
8. Application of Utility Environmental Management Standards in the Organization
8.1. Evaluation of Environmental Performance
8.2. Life Cycle Assessment
8.3. Environmental Labels and Declarations
8.4. Environmental Design
Chapter V
FOOD SAFETY MANAGEMENT SYSTEMS
1. Importance of Food Safety
1.1. Types of Food Safety Hazards
1.2. Codex Alimentarius Commission
1.3. History and Rules of the HACCP System
1.4. Legal Requirements within the Scope of Food Safety
2. Importance of GMP/GHP in Food Safety Assurance
3. Food Safety Monitoring Bodies in the World and the European Union
4. Normalization and Standardization Requirements
4.1. Food Safety Management in Compliance with the ISO 22000:2005 Standard
4.2. Food Safety Management System in Compliance with the Requirements of the BRC Standard
4.3. Food Safety Management System in Compliance with the International
Food Standard
Chapter VI
OCCUPATIONAL HEALTH AND SAFETY MANAGEMENT
1. Legal Basis for Occupational Health and Safety
2. Development of Occupational Health and Safety Systems
3. Standardized Occupational Health and Safety Management Systems
4. Occupational Health and Safety Management System in Compliance with the OHSAS 18001 Standard
4.1. Occupational Health and Safety Policy
4.2. Hazard Identification, Risk Assessment and Determination of Controls
4.3. Health and Safety Legislation and Other Requirements
4.4. Occupational Health and Safety Objectives and Programs
4.5. Resources, Roles, Responsibility and Authorization
4.6. Competence, Training, Awareness
4.7. Communication, Participation and Consultation
4.8. Documentation
4.9. Operational Control
4.10. Emergency Preparedness and Response
4.11. Checking
4.12. Management Review
Chapter VII
INFORMATION SECURITY MANAGEMENT
1. Information Security Management [ISO/IEC 27001]
2. Conception of the Information Security Management System [ISO/IEC 27001]
3. Establishing and Managing the ISMS
4. ISMS Implementation and Application
5. Monitoring and Reviewing the ISMS
6. Maintenance and Improvement of the ISMS
7. Risk Management in Information Security
Chapter VIII
THE ROLE OF NORMALIZED MANAGEMENT SYSTEMS IN THE DE- VELOPMENT OF CORPORATE SOCIAL RESPONSIBILITY
1. CSR – Sustainable and Responsible Business
2. Application of Stakeholder Theory and Social Capital Theory in Shaping the CSR Policy
3. Standardization in the Area of Social Responsibility
3.1. Standard SA 8000 – the Social Responsibility Management System
3.2. The AA 1000 Series – Guidance on Dialog, Communication and Stakeholder Engagement
3.3. ISO 26000 – International Guidance on Social Responsibility
4. Reporting in Conformance with GRI Guidelines
Chapter IX
INTEGRATION OF MANAGEMENT SYSTEMS
1. Essence and Definition of the Integration of Management Systems
2. Motives for the Integration of Management Systems
3. Elements of the Integration of Management Systems
4. Interrelations of Requirements between Quality, Environmental and OH&S Management Systems
5. Methods for Integrating Management Systems
5.1. Building an Integrated Management System from the Bottom Up
5.2. Building a Management System on the Basis of One Systematic Element and the Gradual Integration of the Following Systems with the Existing System
5.3. Building Partially Integrated Management Systems
6. Levels of the Integration of Management Systems
7. Benefits of the Integration of Management Systems
8. Barriers to the Integration of Management Systems
Chapter X
AUDIT IN NORMALIZED MANAGEMENT SYSTEMS
1. Audit in Normalized Management Systems
2. Essence of a Management System Audit
3. Audit Objectives and Responsibility Scopes
4. Stages of Audit Actions