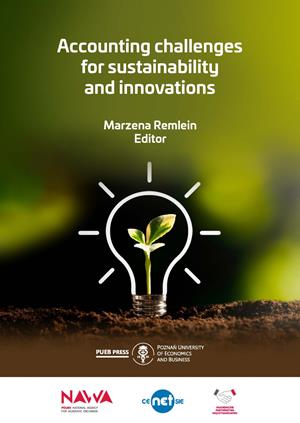 ISBN:
978-83-8211-055-5
DOI:
10.18559/978-83-8211-055-5
Edition:
I
Publication date:
2021
First publication date:
2021
Pages:
186
Print:
Electronic version:
pdf
Format:
B5
License :
open access
Keywords

accounting, sustainable development, Corporate Social Responsibility, environmental management, reporting accounting, non-financial reporting, investments, external costs, derivatives, research and development, cryptoassets
Accounting challenges for sustainability and innovations
For citation
Remlein, M. (Ed.). (2021). Accounting challenges for sustainability and innovations. Poznań: Poznań University of Economics and Business Press. https://doi.org/10.18559/978-83-8211-055-5
PREFACE
Nikolina Dečman, Marzena Remlein, Ana Rep
1. SUSTAINABILITY AND CORPORATE SOCIAL RESPONSIBILITY IN ACCOUNTING
1.1. Sustainability and Corporate Social Responsibility
1.2. Social responsibility accounting
1.3. Green accounting
1.4. Corporate Social Responsibility and Sustainability Reporting
Ana Rep, Nikolina Dečman
2. SOCIAL RESPONSIBILITY REPORTING STANDARDS
2.1. Introduction to voluntary standards and reporting frameworks
2.2. GRI Sustainability Reporting Standards
2.3. OECD Guidelines for Multinational Enterprises
2.4. UN Sustainable Development Goals
2.5. UN Global Compact Communication on Progress
2.6. ISO 26000—Guidance on social responsibility
2.7. Other frameworks for CSR reporting
Katarzyna Czajkowska, Marek Masztalerz, Ana Rep
3. NARRATIVE REPORTING
3.1. Accounting communication—from numbers to text
3.2. Narrative financial reporting
3.3. Importance of materiality principle in narrative reporting
Libor Závodný
4. INTEGRATED REPORTING
4.1. Introduction
4.2. Motivations to introduce integrated reporting
4.2.1. Invisible assets, loss of confidence in financial data
4.2.2. Convolution of reporting schemes and a need for a structured approach
4.3. International Integrated Reporting Council
4.4. Objectives of integrated reporting
4.5. Fundamental concepts of integrated reporting
4.6. Preparation of integrated report—Content Elements
4.7. Preparation of integrated report—capitals
4.8. Preparation of integrated report—guiding principles
4.9. Integrated reporting practice—selected studies
Nikolina Dečman, Petr Petera, Marzena Remlein, Ana Rep
5. NON-FINANCIAL REPORTING IN SELECTED EUROPEAN COUNTRIES
5.1. Legal regulations—Directive 2014/95/EU
5.2. Disclosing of non-financial information in Croatia
5.3. Regulation and research of non-financial reporting in the Czech Republic
5.3.1. Non-financial reporting in annual reports
5.3.2. Non-financial reporting in standalone corporate responsibility reports
5.3.3. Non-financial reporting in web pages, press releases and other media
5.4. Non-financial reporting in Poland
Marzena Remlein
6. SOCIALLY RESPONSIBLE INVESTMENTS
6.1. The essence of the concept of socially responsible investing
6.2. Motives of SRI
6.3. Strategies of SRI
6.4. The market of SRI
Ewelina Kuberska
7. EXTERNAL COSTS—ACCOUNTING PERSPECTIVE
7.1. Why should external costs be a part of research in accounting?
7.2. Definition of external costs
7.3. External costs of company's activities
7.3.1. External costs of the transport business
7.3.2. External costs of the mining business
7.3.3. External costs of agricultural production
7.4. Environmental fees versus external costs
7.5. Evaluation of external costs
Katarzyna Czajkowska, Dawid Obrzeżgiewicz
8. DERIVATIVES IN ACCOUNTING
8.1. Classification of financial instruments
8.2. Types of derivatives
8.3. Valuation
8.4. Presentation of derivates
Artur Jastrzębowski, Jiří Pospíšil
9. COSTS OF RESEARCH AND DEVELOPMENT
9.1. Reasons for the development of R&D activities
9.2. Types of research conducted in the enterprise
9.3. Technology advancement phases
9.4. Register of research and development works in the accounting system
9.5. International harmonization of financial reporting for R&D
9.5.1. The difference between research and development
9.5.2. The regulation for R&D cost reporting under the IFRS
9.5.3. Measuring the development costs in compliance with the IFRS
9.6. National regulation—the case of the Czech Republic
9.7. Case study
9.7.1. The case of mobile mini-power plant
9.7.2. The deliberations and solution—IFRS approach
9.7.3. The deliberations and solution—Czech approach
Piotr Druszcz, David Procházka
10. CRYPTOASSETS—NATURE, VALUATION AND DISCLOSURES IN ACCOUNTING
10.1. Introduction
10.2. The essence and usage of cryptoassets
10.2.1. Cryptocurrencies—definitions and characteristics
10.2.2. Digital tokens—definitions and characteristics
10.2.3. Cryptoassets origination
10.2.4. Examples of use of blockchain technology and cryptoassets
10.2.5. Valuation of cryptoassets
10.3. Theoretical background of accounting for cryptoassets
10.4. Accounting framework for cryptoassets under IFRS
10.4.1. Accounting for cryptoassets by holders
10.4.2. Accounting for cryptoassets by issuers
The aim of this e-book is to present the most important aspects related to sustainability, corporate social responsibility and innovation from an accounting perspective. The book contains parts that deal with accounting aspects of sustainability and innovations. The book consists of ten chapters devoted to relevant and topical issues of sustainability and innovations. Chapter 1 Sustainability and Corporate Social Responsibility in accounting is an introduction to further considerations and deals with the essence of sustainable development, corporate social responsibility and their recognition in accounting. Chapter 2 Social responsibility reporting standards presents the most important reporting guidance such as GRI, OECD, United Nations Global Compact, International Organization for Standardization. Chapter 3 Narrative reporting focuses on descriptions and explanations in accounting reports. The chapter presents the links between accounting and language, the development of accounting narratives and the factors determining the use of narratives. Chapter 4 Integrated reporting discusses the motivations, objectives and the process of preparing an integrated report. Integrated reporting can prove to be an effective tool for businesses looking to shift their reporting focus from annual financial performance to long-term shareholder value creation. Chapter 5 Non-financial reporting in selected European countries presents the experience of Croatia, the Czech Republic and Poland in the field of preparing non-financial reports. A significant contribution to promoting the importance of sustainability reporting was made by the Non-Financial Reporting Directive (2014/95/EU). Chapter 6 Socially responsible investments discusses the essence of socially responsible investing and socially responsible investment. Socially responsible investing (SRI) is a decision making process concerning the allocation of free financial resources, where the investor aims at maximization of profit and minimization of risk on one part and includes the socio-ethical and environmental-ecological considerations on the other. Chapter 7 External costs – accounting perspective describes costs connected with using goods such as air, soil, water, silence or the aesthetics of the surroundings. One of the biggest problems for accounting in the future will be measuring the volume of using these goods or measuring the size of reduction in the quality of public goods suffered and assigning the decrease to particular companies. Chapter 8 Derivatives in accounting is devoted to financial instruments and presents two different approaches to accounting of derivatives: general model and hedge accounting. Derivatives are used to protect the enterprise against financial risk related to changes in prices on the markets, changes in the exchange rate or changes in interest rates, as well as for commercial purposes. Chapter 9 Costs of research and development shows the company's activity in the field of research and development and the related costs. R&D constitute an increasingly important element of the functioning of enterprises. Chapter 10 Cryptoassets – nature, valuation and disclosures in accounting focuses on cryptocurrencies (e.g. Bitcoin, Ethereum etc.) and digital tokens which are specific rights or values representatives. As a result of the transformation on the financial market, we are currently dealing with cryptoassets, which are a creation of blockchain technologies and the changing habits of the digital society. One of areas that there are a lot of doubts regarding these new technological solutions is accounting.