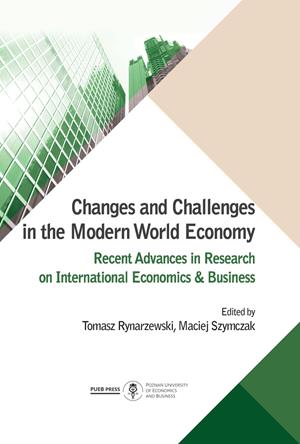 ISBN: 978-83-7417-918-8
e-ISBN:
Edition: I
Publication date: 2016
First publication date: 2016
Pages: 374
Print: hardback
Electronic version: PDF
Format: B5
License : open access
Changes and Challenges in the Modern World Economy
Availability and purchase
Electronic version
(CEEOL)
*Clicking the button takes you to an external open access or selling platform.
For citation
Rynarzewski, T. and Szymczak, M. (Eds.). (2016). Changes and Challenges in the Modern World Economy . Poznań: Poznań University of Economics and Business Press.
The rationale for publishing this Volume was to signal current work and research progress in the area of international economics, business and management. As the title of the Volume suggests, we need to anticipate changes and implement a new approach to face the challenges in the world economy for it is transforming in an unprecedented way now, at a fast pace, and the global economic map is constantly redrawing. Papers published in this Volume are written by individual authors and workgroups. They have been assigned to eight chapters discussing crucial aspects of the world economy. The deliberations are held ona micro- and macroeconomic level in both theoretical and empirical terms.
Introduction

The Advances in Theoretical and Methodological Concepts
On the interdisciplinary naturę of international business (Marian Gorynia)
Evaluation of the company internationalisation process: traditional and network perspective (Krzysztof Fonfara, Adam Dymitrowski, Łukasz Małys)
Is economics a science? On scientific cognition in social sciences, in economics in particular (Katarzyna Appelt)

Exploring Changes in the Potential for International Trade
The use of the economic potential of the African continent by Polish entrepre-neurs: selected aspects of mutual cooperation on the example of regions of West and East Africa (Tomasz Rynarzewski, Ewa Cieślik, Katarzyna Nawrot)
Measuring the international trade flows in terms of expansion of global value
chains (Ewa Mińska-Struzik)

From Global Perspective to Regional Problems
Science-industry cooperation vs. innovativeness of Polish NUTS-2 regions
(Dorota Czyżewska-Misztal, Łukasz Wróblewski)
The use of repayable financial instruments in the process of regeneration of degraded urban areas on the example of the JEŚSICA initiative (Ida Musiałkowska, Piotr Idczak)

Doing Business under Global Challenges
Behavioural economics and the effectiveness of leadership in international business (Henryk Mruk)
Clusters in the process of internationalization (Barbara Jankowska, Aleksandra
Kania, Piotr Trąpczyński)
Knowledge transfer in manufacturing companies in the internationalisation
process of a company (Marcin Soniewicki, Aleksandra Hauke-Łopes)

Contemporary Financial Issues
Forecasting the dynamics of stock indices (DJIA, DAX and WIG) using conditional models (1992-2014) (Wiesław Łuczyński)
From micro- to macroprudential policy. On the changing naturę of financial
supendsion around the world (Anna Matysek-fędrych)

Supply Chains as a Tool for Internationalization
Evolution of management of international supply networks and chains (Piotr
Banaszyk, Elżbieta Gołembska)
Production and transport management in the sustainable supply chain development (Maciej Szymczak, Hubert lgliński, Mariusz Szuster)
Poland as an example of economic development through participation in European supply chains (Zbigniew Bentyn, Justyna Majchrzak-Lepczyk)

The Development of Tourism Industry and Tourism Market
The impact of the information society on consumer behaviour on the tourist
market (Agnieszka Niezgoda, Ewa Markiewicz)
The use of geostatistical information to measure the spatial agglomeration in
tourism in the border counties (Justyna Majewska, Szymon Truskolaski)
Effects of individual and organizational factors on employer image: A case of
the tourism industry in Poland (Marlena A. Bednarska, Marcin Olszewski)

Using Social Media in International Business
Cross-cultural gender differences in the usage of social media (Małgorzata
Bartosik-Purgat)
Social media as a tool to support building relationships in the international
market (Bartosz Deszczyński, Miłosz Łuczak, Marcin Wieczerzycki)

List of tables

List of figures