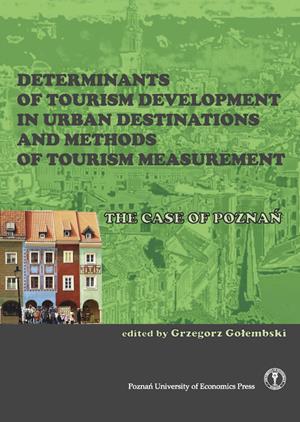 ISBN: 978-83-7417-611-8
e-ISBN:
Edition: I
Publication date: 2011
First publication date: 2011
Pages: 142
Print:
Electronic version:
Format: B5
License : open access
Determinants of tourism development in urban destinations and methods of tourism measurement: The case of Poznań
Availability and purchase
Electronic version
(CEEOL)
*Clicking the button takes you to an external open access or selling platform.
For citation
Gołembski, G. and (Translator), P. B. (Ed.). (2011). Determinants of tourism development in urban destinations and methods of tourism measurement: The case of Poznań. Poznań: Poznań University of Economics and Business Press.
One of the features of contemporary tourism is a growing role of urban destinations. Increased concentration of tourism in the city supports development of the city's tourism function as it relies on the level and intensity of tourist traffic. The level of tourism development changes over time and it needs to be measured. This work suggests methods of measuring the extent and rate of tourism development, and proposes ways of assessment whether the city's tourism function develops in the right direction and how it is supported by city authorities. It also looks at the important role of local residents in city tourism. The work is equally theoretical, methodological and practical. It is based on the case study of the city of Poznań, but measurement techniques and the investigation outcomes presented in this publication will likely have general applicability.
INTRODUCTION
I. THE LIFE CYCLE OF A CITY'S TOURIST FUNCTION: THE CASE OF POZNAŃ – Katarzyna Czernek, Piotr Zmyślony
1. The tourism area life cycle model
2. The city and the life cycle of a tourist area
3. The problems of tracing the tourist evolution of a city
4. The life cycle of the tourist function of Poznań
4.1. Development of tourism function in Poznań before 1950
4.2. Post-war correction and centrally controlled stagnation (1950–1963)
4.3. Development marked by strong interferences (1964–1987)
4.4. A short-term decline in the transformation period of 1988–1991
4.5. A free-market rebound and repeated involvement (1992–2002)
4.6. Resumed development (since 2003)
5. Development determinants of Poznań's tourist function
II. THE MEASUREMENT AND EVALUATION OF TOURISM DEVELOPMENT IN POLISH CITIES IN THE LAST DECADE – COMPARISON OF POZNAŃ WITH THE BIGGEST CITIES IN POLAND – Justyna Majewska
1. Method of determining the level of tourism development
2. Testing the method – the case of Poznań
III. APPRAISAL OF LOCAL GOVERNMENT'S IMPACT ON THE TOURIST FUNCTION OF A BIG CITY – Grzegorz Gołembski
1. Appraisal of local government's impact on tourism development – a metho­dology
2. Tourism development instruments used by city authorities
3. Appraisal of city authorities impact on tourism development
4. The results
4.1. Climate for tourism development
4.2. Success-producing actions
4.3. Tourism vision
4.4. Tourism development strategy
IV. A SURVEY OF POZNAŃ RESIDENTS ON TOURISM DEVELOPMENT IN THE CITY – Agnieszka Niezgoda
1. Social considerations of tourism development in the big city
2. Results of the empirical study
2.1. Methodology
Table of contents
2.2. Residents' perception of tourism development and attitudes towards tourists
2.3. Residents' perception of the city's attractiveness for tourists
2.4. Residents' perception of tourist infrastructure in the city
2.5. Environmental awareness and its role in tourism development
LITERATURE
LIST OF FIGURES
LIST OF TABLES